V-KULLEN
Valpar födda 4 april.
1 svart/vit hane, 2 svart/vita tikar och 2 svart/vit & tan tikar.
WEBALBUM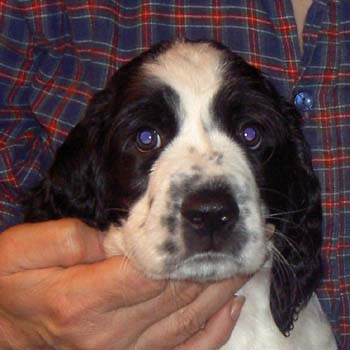 Kvistagrans Victory Made
Kvistagrans Vote For Me
HD A
Kvistagrans Very Oldfashioned Girl
HD B
Kvistagrans Viva La Isla
Kvistagrans Viola Tricolor
Grand Edition Della Giuliana "Eddie"
HD: A Ögonlyst UA 080729 Fucosidostestad fri. Funktionsbeskriven.
2:A ökl utställning. GODKÄND ANLAGSKLASS VILTSPÅR.


SVCH Kvistagrans Queen Of The Jungle "Doriz"
HD A, Ögonlyst UA 081008,
fri från fucosidosanlag genom sina föräldrar.
Godkänt enkelt vatten och vattenprov. MH-beskriven.
1:a ukl utställning, 1:a med HP på blodspårsprov i Norge.
STAMTAVLA FÖR KULLEN.
Grand Edition Della Giuliana

Hook Della Giuliana

INTUCH ITCH
Rowntree Gunsmoke Guy

Ergh Della Giuliana

Elvira Della Giuliana

Trotter Della Giuliana

Blade Della Giuliana

SVCH Kvistagrans Queen Of The Jungle

Cleavehill Witch's Brew

Cleavehill Rocka Fella

Cleavehill Just Like Witch

Kvistagrans Ögonfröjd

Pygmalia's Rosenkavaljer

Kvistagrans Fina Fiffi